Tak: Cheapass Games Takes on the Classics
It takes a special kind of determination to take on games like checkers, Go, and chess, games that are such solid pillars of life that they simply are, but here comes Tak, aiming to do just that very thing: enter the realm of abstract strategy, with a long historical narrative of its own behind it… only a fictional narrative, from a fictional history.
Tak's extensive backstory, and inspiration, has its origins in the 2011 book The Wise Man's Fear, from Patrick Rothfuss's ongoing Kingkiller Chronicle trilogy, and the flavor of the novels fills the rulebook, at least in its current beta version, with references to versions of the game played "in antiquity" and the difference between tavern and court games. For players, of course, these varying versions just assist in the creation of house rules and other variant forms of play, turning what is on the face quite a simple game, with a simple board, into something with much greater depth and potential.

A straightforward abstract strategy game, Tak is played with stones on a board of varying sizes (4×4, 5×5, heck, go hard, play 9×9!). Within the novel, the game's rules are a little vague, but in partnernship with Rothfuss, Cheapass Games revealed all, presenting Tak's developing rulebook for free and giving instructions on how to make do with materials cribbed from things you probably already own (like checkers). Of course, if you want the real deal, Cheapass Games is currently Kickstarting Tak; backers can pick up a small set for $25, with nicer, larger versions from $55 and up. In concert with the Kickstarter and other promotions, too, they've been sending out handmade simplified review versions of the game, and so I've been trying out a few different permutations to get a feel for what's possible. Tak is still in "beta" — everywhere, there are warnings that current rulesets may not be finalized, but there's a lot to learn about what's out now.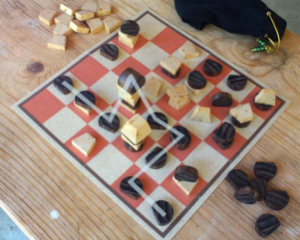 Tak sounds simple: two players at a board attempting to connect pieces (stones) in a "road" from one edge to the other. Complicating matters, however, is the ability to stack pieces, to stand others on end to create walls, and to crush walls or stop stacks with a special capstone piece. The objective is always the same — get from this side to that — but the other aspects are more flexible. Play on a larger board or not. Play with capstones or not. That flexibility creates a lot of potential.
In testing, I played Tak with several different people. I was particularly interested in simpler approaches with kids, as the game was flagged as kid-friendly, and indeed, I was able to play with my son with relative ease, though we only played the stripped-down version. With my son, Tak became a more complex Connect Four; we stacked and moved much less, and primarily fought for the right to make straightforward paths across the board. With other adults, however, the game became much more strategic, with long, thoughtful pauses and some consultation of the rules to see what was possible and what wasn't. Much like chess, or even checkers, those simple rules (move this direction, in this way, at this time) leads to wild permutations when a win is on the line. The way a game of Tak goes down as well is dependent on the players; my partner, a strong, strategic player, took a very focused mathematical approach that was difficult to beat, but when I played with a friend, we were more focused on manipulating one another than the board. The game, even in this truncated space, has a lot of potential for versatility. Even my daughter, who just turned three, found something valuable in the set — the pieces were great for making precarious towers, and once she figured that out, prying them away from her to play a regular game was difficult!
Jokes aside, the pieces created for reviews were straightforward but nice: unfinished wood, nice and smooth, and instructions for finishing them with wax were included. Since Tak can be played with just about anything, and boards can be quickly made, creating these small sets to get the game out into the world was a nice touch, and I imagine the finished products will be lovely indeed. Board game enthusiasts may want to keep an eye on this one for that reason alone, if nothing else.