The Treasure Pinata of Incremental Goals: Diablo III and Depression
It's no secret that I have depression. I've been chronically depressed my entire life, and even though it's impacted by external events and forces, for the most part it's just a chemical imbalance in my brain that makes me wake up mid-afternoon instead of when my alarm goes off at nine in the morning. One bad day and my productivity flies out the window, and before I know it, it's two in the afternoon and I have precious few hours to read for class, prep for teaching, and write my post for the week.
I'm writing about depression and gaming this week because that's how I woke up this weekend, feeling like my brain had just been kicked to a pulp by a jackass in steel-toed boots.I had a to-do list a mile long, a stack of dirty dishes in the sink, and a pile of dirty laundry on my bedroom floor. The thought alone made me roll over and sleep for another three hours after my alarm went off, leaving me at a loss for how to recover a wasted day at two in the afternoon.
The time is now half past four. My dishes are in the drying rack, my laundry is in a basket and waiting for the washer in my apartment building to be free. I'm writing my post, I've eaten a balanced lunch, and figured out how much reading I need to do before I can relax tonight.
And I got here because before I got to work, I sat down and played some Diablo III.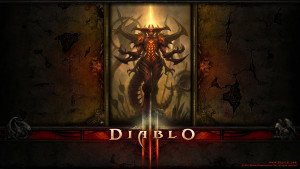 I've been playing Diablo games for about a decade, originally picking it up because my college boyfriend and I wanted to find a game to play together and the Diablo II battle chest was compatible with both Mac and PC. The summer after my freshman year of undergrad was spent doing dungeon runs with my Necromancer in Diablo II when I wasn't working full time at a campus library, and the franchise became one of my favorite pastimes. I'd been playing games for years, but something about the play style of Diablo was particularly enjoyable for me. Diablo games have a plot, of course, but in a rare instance, I found myself less concerned with the story presented to me by Blizzard and more interested in how many dungeons I could clear, how I could use my powers to buff my skeletal minions and destroy my enemies. The story became secondary to the opportunity to, in the words of a friend at the time, hit the treasure pinata and see what falls out.
I picked Diablo up again in 2012, with the announcement of the newest game in the franchise. At first I had trouble adjusting to Diablo III — the style was just different enough from the second game that it felt unfamiliar, and it was more difficult to avoid the plot, which I had a number of issues with (But that's another post for another time). In the last four and a half years I've gone through fits and starts with Diablo III, usually playing with friends in a social setting to relax and hang out. When the Reaper of Souls expansion was released and Adventure Mode was introduced in 2014, the game suddenly felt much more like the style of play I was used to, namely hitting the treasure pinata until shiny things fell out. This and the ability to create new heroes for Seasonal play and rewards had me falling back into the game, often with friends but also alone, and as I navigated the treacherous waters of my mental health, my masters program, and beginning my transition, I took comfort in always having a game to play that gave me the simple pleasure of killing demons and taking whatever loot they left behind.
Plenty of games fall under this treasure pinata style, in fact it's possible to play just about any game like this if you do it the right way, but Diablo is unique for me in that it creates a kind of structure that I desperately need to achieve any kind of motivation, and the day I figured this out was the day I learned to really cope with my depression.   
Games are escapism and games are fun, and sometimes games are the kind of escape that allows my brain to reorganize itself after a deep depressive spiral. Some of it is likely the simple and symbolic satisfaction of fighting demons, a metaphorical manifestation of how depression can feel, but when it comes to Diablo III's playstyle I find that it gives me something I have had trouble locating in games in the past.
Many games, especially plot-heavy games, are a time-suck for me. No matter how many times I play through Bioshock or Mass Effect, the quest-oriented structure doesn't stop me from sitting down to play and looking up at the clock to wonder where the heck the last five hours went. While the structure is there, it relates directly to a plot, and, narrative junkie that I am, I have to follow a thread through to its end.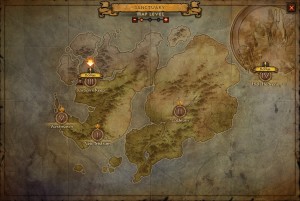 Diablo III gives me a kind of mindless entertainment with set beginnings and endings, easy and achievable quests that aren't tied to a story. I'm referring specifically to the style of play Adventure Mode affords, where it's possible to move freely around the entire map of the game to run simple dungeon crawls, set up as 'bounties', where players need to kill specific boss monsters or cleanse cursed objects in order to receive a reward. Each of the five acts has five bounties pulled from plot-related mini-quests, and completing them offers the opportunity for loot, treasure, and XP. The best loot comes from completion of an entire Act region, so there's motivation to complete five bounties and get the best rewards. The bounty/act system creates a clear start and end point, and it takes anywhere from fifteen to thirty minutes to get through a set of bounties depending on the difficulty setting.
Running an act bounty is a simple and discrete unit of measurement for me, a small period of time set aside where my goals are simple and easy to accomplish. If a bounty requires me to kill one hundred monsters, my character can enter the dungeon area and make short work of the demons and devils ravaging the realm. This directly relates to a lot of advice people hear about dealing with depression. Setting small goals to help build your way to bigger goals is a classic point, and I'll be the first person to say it's worked for me. I suspect my way of using that style, that is, playing Diablo III, is not as traditional as things like making one's bed and taking a shower, but the goal of any of these activities is that sense of simple satisfaction, of completing one small task to check off the to do list. For me, running an act bounty has the same function as taking a shower or taking out the trash — it's something small that requires minimal exertion and the satisfaction of completionism to keep me going.
Depression is a tricky beast to combat, and I've had to find new and creative ways to deal with it as I enter what is undoubtedly the most stressful period of my life thus far. One of the things I love about games besides the escapism and narrative is the accumulation of goals and the satisfaction of success. It's a lot easier to motivate myself to accomplish necessary tasks when my motivation can include the opportunity to run my wizard through a nephalem rift to earn points and loot.   
Games are complex things, and they can provide different kinds of happiness and value for different people, and different emotions. When I'm depressed but know I still need to get work done, having a game that gives me concrete rewards for minimal exertion gives me a push back into that kind of motivation I need in reality. Rather than sinking my entire day into hours of replaying a story-based game that helps me escape from my imbalances of my brain, I get the satisfaction of completing something small that pushes me to go for something a little bigger, a little more difficult.
Playing through an act bounty when I got up this afternoon led me to doing dishes, taking out the trash, and starting on my laundry. After I finish this post, it'll give me another specific amount of time to spend playing Diablo III before I read for class. The accomplishment of the smaller goals will push me towards the big ones, and the fact that there's a game that can do that for me makes living with depression more than an unending slog and a series of self-disappointments. It may not be the exact same process for every gamer, but there's something to be said for using games to emulate that helpful push towards small rewards in order to accomplish the bigger goals we need to in our daily lives. I love that games can do that, and it reminds me that games can do so many things if we take a step back and examine just how we tend to use them.