Lonely Gaming: The Next Big Frontier, or Weeping on the Couch?
I walk nervously into my local game shop. I usually go in alone, and as a woman, I typically feel out of place. There are about twenty men in the adjacent room playing Magic and only a few stragglers browsing the impressive board game collection. Today it isn't my gender I'm thinking about, though. It's the question I need to ask. I approach the salesperson at the front counter, a guy I've dealt with many times and I find to be extremely nice and knowledgeable. "Hi, can I help you with anything?" he says chipperly. "Yes, um, I was wondering…" my stammering is painful. "Can you recommend any board games you can play alone?"
Silence. And then laughter.
Yes, I admit it. I play board games alone. I can't possibly be the only one to be in this position, yet there certainly is a stigma against those who either want or must play alone. The predominance of "social" board games is overwhelming and a given to gamers and non-gamers alike. If you play board games, you must have a good circle of friends, partner, or active community to play with. If not, well, maybe you should go play some video games.
Sure, I've done all the research on board games for losers like me: Mage Knight, Arkham Horror, The Game, Agricola, Ghost Stories. The problem with these lists is that these games are playable by one, sure, but they really are meant for multiple players. They either become too difficult for a solo game, or you need to play as multiple characters which is less fun, or the fun of the game is dependent on the social interaction the game forces.
The internet, for the most part, is on my side. A comment back and forth on an article teaching you how to amend your favorite games for solo play, one commenter writes:
"This depresses me."
The responses rally:
"Many hobbies are things people usually do alone(model building, reading, art). Boardgaming is lucky enough to have human interaction most of the time, but why is the fact you can still do the thing you love, even if you have no one else to play with at the time, depressing?"
"Yeah, I don't understand that either. Is shooting hoops by yourself depressing? Is playing guitar without a band depressing? Is cooking a nice meal for yourself depressing? Nope, nuh-uh, and not at all."
"I was an only child and my parents HATED playing board games and I love them. I occasionally tried to do one on my own. This post is giving me mild sadness flashbacks."
"Well, if you're alone – maybe you always are, or maybe your fabulous gang of friends are out of town – you might as well do something fun. Beats lying on the couch weeping."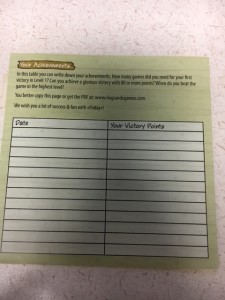 On my quest to find if board gaming alone can be legit, I ordered the game Friday last week. Friday is designed by Friedemann Friese and is design as "A Solo Adventure." Can a board game be fun when it is designed to be played alone? That's what I wanted to find
out. If it is, then this could be the future of gaming (because us losers like spending money). If it can't be done, well then we all need to get busy weeping on our couches.
The game's theme is entirely appropriate to being a solo game. You play as Friday, the sole inhabitant of a tropical island. Robinson, a somewhat oafish noob, crash lands on your paradise. You must help him fight the pirates circling the islands in order to get him on his way and out of your hair.
The gameplay is complex, but fairly smooth. For those who haven't played, you can check out the video above: it's a card building, strategy game, though I feel like those two titles don't do it justice. The game just complicated enough to keep you interested, but unlike multiplayer games played solo, you never feel like you're missing out. Further, there are three levels of difficulty you can face in case the game gets too easy for you. For such a small box and limited set of items, it really is shocking how much fun and unique the game is. You need strategy at every turn, and you can easily lose the game by not thinking about the hazard at hand and the big picture.
In my opinion, this game showcases the possibilities in solo board games. This one is PvE, which is pretty much a given in the solo board game genre. I would like to see where this category goes in the future, because I bet there are possibilities for innovative play that we haven't even thought of.
So what say you, readers? Is my solo gaming legit, or do I just really need a friend?