Creating Characters Who Are Seen: On Monstress, Horizon Zero Dawn, and Agency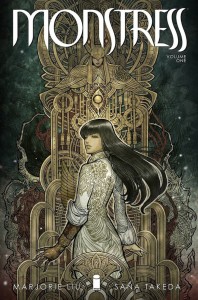 In my last post, I wrote a bit about the implications that motherhood and maternal thinking have for the rendering of the protagonist Aloy in Horizon Zero Dawn. Since then, I've been thinking more about the construction of female protagonists, especially since I've started reading Marjorie Liu and Sana Takeda's comic series Monstress, a series that is striking from its first panel. Indeed, Lauren K. Alleyne of Guernica examines the impact of this first image:
In the first panel of Marjorie Liu's recently released comic, Monstress, Maika, the heroine of the series, faces the reader in a full-page portrait, her expression somewhere between a scowl and a dare. There's a shackle and chain around her neck, a whip threatening in the distance, and what is either a tattoo or a brand between her breasts. Maika is also a partial amputee; her left arm ends at her elbow. And she's completely nude. All in all, it's a visual sucker punch. And yet, the image projected is not one of fragility or fear; even without reading the text, which tells us she's exactly where she wants to be, Maika's body and gaze emanate confident defiance.
Lenika Cruz, in her interview with Liu, explains that Monstress "is a sprawling epic fantasy that drops readers into the middle of a magic-filled alternate history" set in what she calls "a kind of 'matriarchal Asia.'" It's a particularly violent, bloody word, one rendered in manga and Art Deco-inspired visuality, and one that is "wracked by a race war and inhabited by violent witch-nuns, vicious deities, and innocent civilians." And Maika's "confident defiance" is striking, in part, because of the particular context of this series: "Liu and Takeda's series differs from most genre fare, comics or otherwise, in at least one key way: There are almost no men or white characters."
In her interview with Alleyne, Liu explains that the lack of men and white characters is, of course, strategically oriented; indeed, Liu explains, "I wanted to reverse that and tell a story with five women for every one man, and not comment on it. There's no virus that eradicated men; the book is just not about them. Instead there are a ton of women running around, ruling the world, making war, having adventures." And what has struck Liu is the response to this narrative decision:
It shouldn't be that big of a deal, but what's been interesting is seeing how surprised people are at the amount of female representation in the book…What has been made clear to me after seeing the response to Monstress is that we've basically accepted this civilizational lie about women that we don't have agency, that women on average don't make an impact on the world, that women aren't really that important. That's the great lie of patriarchy—and patriarchy won't accept that the average woman has made this world just as much or more than its greatest men.
In this way, Monstress works to display the idea that "there's more than one kind of woman that can be present in a story as part of our fictional framework."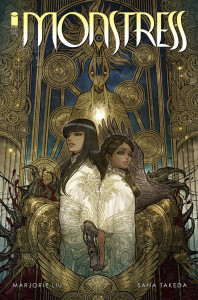 This is especially apparent in the ways Monstress represents the body, which Liu explains is, in part, the result of her having "always been super-aware of bodies," and especially of her own: "Then, there's the racial side, where bodies of color are always being singled out. You can't be an Asian woman, growing up in a society that fetishizes Asian bodies, and not have thought about that." Thus, Liu works to unsettle the fetishization, objectification, and marginalization of an intersecting network of bodies, and she explains, "It is something that has really bothered me my whole life—our inability to hold the other, to hold difference, to acknowledge and see it, is really disturbing to me. And so when I write characters who are missing limbs, when I write characters of color, I am trying to fight that. I'm trying to create a character who is seen."
In this way, Liu makes use of her experience and positionality as a woman of color to combat the erasure of characters of color—to create characters who are seen. She works to construct complex, complicated characters with agency, and this issue of agency is one that Holly Green says she has been thinking about "a lot as [she finishes] up Horizon Zero Dawn." Green argues, "Aloy, despite having been written primarily by a male lead writer, is one of the better female protagonists I've ever played in a game, and it's hard to find fault with her. But behind that perfect combination of inner strength and outward independence, as well crafted as it is, is the reality that we think feminism is about making all women strong, instead of valuing all women, no matter how weak we may perceive them to be." As such, Green uses the example of Aloy in Horizon Zero Dawn to highlight the ways "the negative associations surrounding emotional expression" are used "to stigmatize women as incapable. The only way to challenge and subvert it is to stop tying their emotional expression to an inability to achieve." In this way, Green argues that such problematic representations of gender and strength speak to the idea that "many straight cisgender male writers…are confused about the difference between 'strength' and 'agency,'" and that this confusion plays out in the ways they write women:
That is, many writers think that valuing a woman based on her strength is feminist and that writing a "strong female character" who "totally kicks ass" is enough to challenge misogyny. And while that context can and does subvert common sexist tropes…it reinforces others. Because at its heart, it doesn't actually understand…It's not enough to write a "strong" female character. Not all women are strong, and that doesn't mean they're any less valuable. Don't write them with strength as the goal: write them with agency.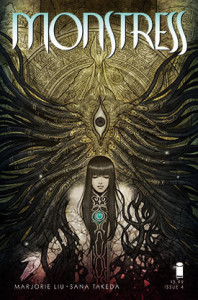 Liu, in her interview with Alleyne, explains that these limitations underscore the need for emphasizing the voices and writing of women and people of color: "The lack of our voices, the lack of our vision, the fact that stories aren't being told through our eyes, means that we're bombarded with the same kinds of stories over and over again: ones that constantly reinforce a destructive and inaccurate picture of what our world is like, and who we are." In this way, Liu contends, it's not just about representational inclusion but "structural diversity" in order to counter "this whole thing of not being seen. Of people looking away from us. Of us not existing, just being wiped away, out of existence. And things won't change unless we actually start telling stories, and we're able to mobilize and start using our voices. We're at a point now where that has to happen. It must." Indeed, it has to happen not just in Monstress's location in the space of comic books, but across mediums and forms—and especially in video games, a form that requires much more work in both representational and structural inclusion and diversity.