Crash Bandicoot N'Sane Trilogy: Appropriate Character Portrayals with Subliminal Gender Bias
A couple of months ago I picked up the Crash Bandicoot N'Sane Trilogy, remastered by Vicarious Visions for PS4. I was pretty excited to play through Naughty Dog's original claim to fame, since I skipped over the PS1 generation as a kid and never had the change to play through a lot of what are considered today's classics of the Playstation era. I have had some experience, however, with the platforming bandicoot through a spinoff title on the GameCube named Crash Bandicoot: The Wrath of Cortex, created after Naughty Dog had moved on to a new series, and I remember enjoying that game quite a bit even though it wasn't as critically successful as Crash's original games.
To my pleasant surprise, the remastered edition of the Crash Trilogy adds a new feature to the series, allowing players to go through the entire game as Crash's sister Coco, barring a few specific animal riding levels and the boss fights. Not only that, but instead of the developers simply thrusting in a female character model rigged up exactly like Crash, Coco has her own unique personality that shines through individual idle animations and attacks; she moves a bit more gracefully than Crash, but not in an overly feminine or cute way,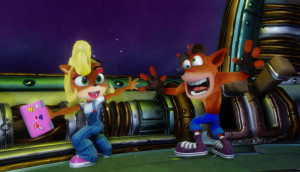 and she retains her age appropriate overalls, ponytail, and personal laptop from her original PS1 appearance, carrying it around with her and often sitting down to browse the web or hash out some code if you leave the controller alone long enough. She even has her own version of the famous Crash dance.
Speaking of coding, the developers even managed to incorporate Coco into the story of the remastered games as well. According to Vicarious Visions' new narrative, Coco uses her programming skills to hack into N. Tropy's Time Twister machine in Crash Bandicoot: Warped, which allows her to travel back in time to the first two games and be a part of the entire trilogy.
Even certain quirks Coco exhibits that could come off as cliched or stereotypical, like pulling out a pink cellphone and snapping selfies of her face, have enough spunk and humor incorporated into them to diminish the potential sexist undertones that could be viewed from such actions.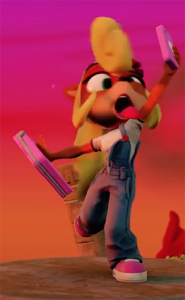 It's probably obvious at this point that I chose to play primarily as Coco throughout the trilogy, only switching when the game required me to. I overall liked her design and character more than Crash, and I found it more enjoyable to see Coco lightly bouncing around with her bangs and ponytail flowing in the virtual wind than Crash bumbling around and making silly faces that in my mind look just a little bit too creepy in high definition. However, I very quickly discovered something interesting relating to both Coco and Crash's character.
Not long after beginning to play as Coco for the first time I earned a trophy called "No Holds Barred." I had decided to intentionally not look at the trophy list until playing through the game once in case there were special gameplay requirements that might influence my playstyle, like intentionally missing all of the boxes in a level or only spinning enemies several times in a row. However, I was curious as to what I had done to earn a trophy in the middle of the level, especially since I assumed most of them revolved beating the bosses and finding all of the collectibles, as is the typical fashion for remasters of older games. So I specifically looked at that one trophy's description, which read: "Defeat 5 enemies with Coco's Spin."
Now, anyone who has even heard of the Crash Bandicoot games knows that the spin move is critical to the main gameplay; ergo, the average time you would go through a level without spinning is probably less than 10 seconds, meaning that this trophy effectively translates to "play as Coco once." This exact trophy is also present in the second game, titled "Boom Shakalaka!" and the third game, "Category Five," and they all require you to defeat five enemies with a new move that is introduced in that particular game.
This can be interpreted one of two ways: Either the developers felt that nobody would ever want to play Coco so they threw in an easy trophy to make them play her once, or they wanted to give Coco a specific trophy for players who were interested in picking her over Crash and they decided to make it an easy to obtain trophy anyways. Upon first reading I interpreted this the former way, feeling a mild irritation that they gave Coco a specific trophy that was ultimately pointless instead of one that involved viewing a special in game interaction or triggering a secret area, while Crash was given several of these.
In an E3 interview with IGN, developers Daniel Tanguay and Jennifer Oneal spoke in more detail about the inclusion of Coco as a fully playable character into the trilogy:
"We wanted to make sure we were integrating her in the right way…There are some fans who may not want to play with her and just want their original experience; they can have that. We set it up in such a way that Coco is optional. You can go up to her in a hub and unlock her, and then you can swap between her and Crash at any point in the hub. But if you wanted to have that original tried and true experience you can have that too."
This reasoning is perfectly fine; in fact, it's great that they allow the option to play as Coco if you would rather be her over Crash, but it doesn't influence whether or not you can 100% the game. The problems arise when factoring in trophies. I'm a completionist at heart, and it's gotten to the point now that almost every game has some form of trophies or achievements built in, and even if they aren't considered as part of the game's base 100% content, I still count them personally. It also doesn't help that the way Coco's trophy descriptions read initially led me to believe the developers were almost trying to force Coco into the game by making players use her in at least one level in order to platinum the game.
This bias is even visible from Crash's perspective too. Even though Coco was given a lot of attention to detail in her various animations and personality details, she still is not as individualized as Crash, particularly when it comes to the numerous death animations, one of the staples of the Crash franchise. As such, there were multiple hidden trophies I missed in the first game during my playthrough because I played exclusively as Coco, and the trophies can only be unlocked after viewing specific animated interactions with Crash (as I mentioned previously).
I'm sure many people who play the new Crash trilogy, especially those who were fans of the games when they were first released in the 90's, don't care at all about the external trophies, and as such this issue is nonexistent to them. However, it becomes something of a roadblock for players that the developers specifically mentioned who may want a "pure" run with Crash, as they effectively cannot get 100% of the trophies unless they break that run at least once per game with Coco, and vice versa. Not only that, but it sends a very subtle message on gendered priority, requiring specific characters to be chosen over others in various situations. The consequences here in Crash Bandicoot are fairly negligible, rooted in external trophies, and I still feel that Coco was given a very positive portrayal otherwise, but similar actions taken to other characters can cause larger repercussions should they make their way into the base game experience.