Marketing for Video Games: Where Does It Go From Here
CW: Visual depictions of sexism and violence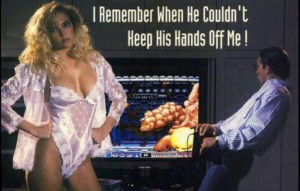 As the semester kicks off, I've been doing a lot of reading for a class I'm teaching for the first time called Communicating Through New Media. The class covers a wide range of topics relating to how to most effectively communicate through new media— but it's particularly focused on how to use the internet to sidestep traditional marketing techniques, instead leveraging a direct-to-consumer approach that's more conversational, informational, and open. This is done with the aim of creating positive social change, and each student group works directly with a nonprofit organization in the Twin Cities to create things like YouTube videos, Twitter accounts, FB accounts, a blog, and so on. It's a lot of work, but students love this class because 1) they get a chance to make a positive impact on their local community and 2) effective grassroots marketing techniques can be extremely successful and are actually a fairly straightforward way for them to actually apply the theories they've been learning throughout their college education. Non-traditional methods of advertising invite creators and consumers to think outside of the box, and it can lead to more ethical, substantive content. As I will argue below, this is sorely lacking in the game industry. The game industry's reliance on traditional media has in part contributed to the current industry and community climate, particularly the sexist/misogynistic/toxic climate.
As I'm reading and preparing and gathering resources, I started thinking about marketing techniques used in the video game industry. After all, video games are on the bleeding edge of many areas: education, programming, interactive media, graphics, and so on. But try as I might, I couldn't think of any advertising campaigns in the game industry that are revolutionary or innovative or even really all that clever. Most campaigns rely on outdated and traditional marketing strategies. Why would games, with all their innovations, buy-in from audience, and familiarity with alternative methods of distribution (Steam Greenlight, Kickstarter, etc), rely almost solely on traditional media for marketing, PR, and advertising?
Let me back up a little. Traditional marketing strategies are (generally) those that utilize one to many model, usually going through a third party (like a marketing agency). It relies on things like television, magazines, mailers, and so on to disseminate information about the product. The information being passed down is highly polished, not personalized to the audience, one-way (doesn't allow for easy feedback), and concerns things like price and where to buy. In the last 15 years, these strategies have become less and less effective, as consumers are much better at finding information about products utilizing the web.
Instead of these strategies, experts at web and viral marketing rely on a far different set of principles that has more engagement, uses significantly less money, and feels more genuine to the audience (for the look and the content). The game industry has done very little of this, at least the large companies. Some small games and indie companies utilize strategies describe by practitioners like David Meerman Scott. Rather than get into the meat of these strategies, which may be more useful in another post, I want to explore a possible connection between a reliance on traditional media strategies and the current state of the community.
I wonder if one contributing factor to the sexism and toxicity in the game industry and community is this reliance on traditional media. The industry has tried so hard to adhere to a masculine, hierarchical method of marketing, that it also brought the "sex sells" maxim to an entirely new level. This sexist advertising in part may have helped set the
tone for the current tenor in the community, saying among other things that it's ok to treat women like objects and that women aren't gamers. Take a look at a few ad examples:
In this Sonic ad, women are clearly not seen as gamers. Further, you have the over-the-top, impossible figure of the female cartoon. This ad, like many utilizing traditional media strategies, uses a picture of an exposed woman to get the attention of the presumably male audience. Women are clearly not interested in playing Sonic, nor are they apparently welcome.
In the Davis Cup ad, one of the worst I've ever seen by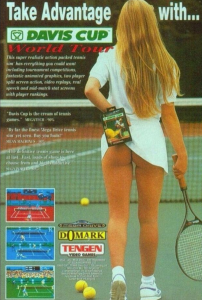 the way, presumably male players are asked to "take advantage" of the sexualized and exposed female tennis player through their game. The intended message (I think) is that you'll be able to take advantage of the sexy lady tennis players with the tennis skills you'll learn from their game. Except that this makes very little sense: why is her skirt hiked up if that's the case? Is she holding it up? Is the game hiking up the skirt? Further, "take advantage" in a sexual connotation always means rape or some kind of sexual assault. They clearly were making a sexual appeal here– so they must have known that "taking advantage" would bring to the audience's mind images of rape. If the public face of games from the very beginning has told its audience that it's ok to threaten to rape women, is it any wonder I hear similar messages every time I decide to use voice chat on a game?
What's even more common in game ads is the idea that the player won't need women anymore because he has video games. The ad to the left puts a naked, unrealistic, submissively and sexually posed women on silk sheets surrounded by video game images. The message, "There is a BEAUTIFUL NAKED WOMAN on this page. When you've got Sega Saturn's triple 32-bit processing power NOTHING ELSE MATTERS." Without even touching the ambiguity of the sentence structure, this is inviting the assumed male audience to give up women in favor of video games– but of course video games here promise far more beautiful women than the player would encounter in RL (since she is unrealistically beautiful) and she is is perfectly posed, ready for a sexual encounter, interested in the viewer, and silent.
The sexist ads of the game industry didn't stop in the 90s. They still continue today in full force. The video below is of a commercial for PS4 remote play:
This ad, while acknowledging women do play, still casts woman as sexual object and the viewer as male. It is a bait and switch, also relying on the exact tactics of late-night phone sex lines. Don't you want to talk to beautiful women like me? has morphed into Don't you want to play with beautiful women like me. She may or may not play games IRL, but the tactic reeks of the much criticized booth-babe way of advertising games.
In the end, I think the video game industry needs to break out of the traditional marketing, PR, and advertising models they're reliant on. It has severely damaged an industry and community that could have paved the way for something new and something different. Advertising is in part to blame for creating a community that thinks it's ok to sexualize and objectify women and for the notion that women aren't gamers. While many of my examples were from early in the evolution of games, look around. It really hasn't gotten any better.