It's Not a Choice!: Fallout Shelter, Queerness, and Compulsory Heterosexuality and Reproduction
So I've been playing a lot of Fallout Shelter lately. Consoles games have fallen pretty much by the wayside as I have spent more time on campus and have come home exhausted. This is not an excuse for playing mobile games, but rather an explanation for why I have found myself forcing myself to play a game that I otherwise would have grown bored with and abandoned a long time ago.
Most time management games only hold my interest as long as the gimmick feels new. Is it still fun to see how fast I can serve table, cook dishes, serve Lord Vader, or plant crops? No? Time to move on. But these last few weeks with Fallout Shelter I found myself imposes new limitations on my vaults (new as in outside of what the designers intended). Vaults with no babies, it's no secret that I found the pregnancy mechanic abhorrent. Vaults with no lunchbox purchases, and (now) aiming toward all female vaults.
One of the more interesting things that I have been looking at is which of the game's actual objectives I am unable to achieve with the restrictions that I have placed on the vaults that I have. Some of the most interesting ones are:
the fact that I have, thus far, been unable to achieve 100% happiness for my dwellers because I refuse to put male/female couples in the lounge together. This is not because I don't want folks in my vault to have sex, but because I don't like the fact that sex automatically leads to pregnancy in this game. Even absent birth control and in the best of situations this will never be the case, ask any woman who has struggled with infertility.
I can't get my couples to dance together. Same reason as above. Female or male couples will NEVER dance together if you leave them alone in the lounge. So apparently there are no queer folks in the post-apocalyptic world and if there are they don't (or can't) dance.
And, of course, I can't have huge numbers of women pregnant all at the same time because…reasons.
And while I don't have pregnant women in my vaults (I have seen it in other people's vaults), I do find it disturbing that pregnant women will not fight fires or combat any of the other instances that threaten the very existence of the vault, but will instead run from the room (to "safety") screaming with their arms held in the air even if they are fully armed with weapons (and armor…seemingly worn beneath the pregnancy uniform of yellow sweatshirt and blue pants). There is more interest in protecting the fetus than protecting the very existence of the vault (and their lives).
It wasn't until last week when we were chatting about Fallout Shelter with the folks over at Justice Points that it occurred to me why these things bugged me so much and what connection I was feeling between these things, but wasn't able to articulate. Compulsory heterosexuality and the production of labor. It was getting all Marxist feminist up in my mobile game.
The emergence of the "homosexual" is, itself, characteristic of a historical moment in which the forces of production have reached such a level of sophistication in their production that heterosexuality (as a means of maintaining the reserve army of labor at a relatively high level) is no longer necessary. The reason heterosexuality is naturalized, in other words, is historical: societies that need to maintain their labor force at a certain level while facing plague, famine, and other natural and social disasters secure heterosexuality as a natural and sacred practice and marginalize other nonprocreative sexualities.  (Teresa L. Ebert, Ludic Feminism and After)
So that is what I was feeling about this game! There was so much about the mechanics of this game that not only privileged heteronormativity but also reproduction. Only heterosexual sex is allowed, heterosexual sex always leads to both 100% happiness and an apparently viable pregnancy, and said pregnancy must be protected at all costs, even when there is a direct threat to the woman carrying the fetus. Um, wow. That is some very real shit right there.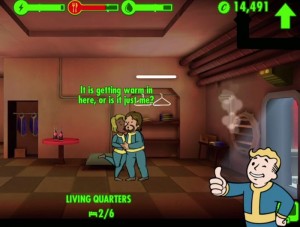 Heterosexuality is not only naturalized, normalized, and celebrated in this game, but nothing else is allowed. I have yet to find a way in which any queer identities are beneficial or even allowed. Putting two men or two women together in the lounge (and I have tried various combinations of individuals) not only doesn't initiate any pre-coital sexy talk or get the thumbs up from Pip-Boy, but it doesn't increase the happiness level of the dwellers any more than putting them in the room alone to rest.
While I understand that in a post-apocalyptic world the survival of the human race and the maintenance of an ample force to provide the vault with food, water, and power is paramount (in the minds of some), we still have to acknowledge the fact that the happiness of individuals in of the greatest import and that while nuclear disaster may kill off most of the population and destroy the environment that it ultimately will not leave behind only happy, fertile heterosexuals. Some folks want to argue that Fallout Shelter is about realism and that a feminist read of the pregnancy/sex mechanic is unrealistic, but the reality of the situation is that high levels of radiation would probably bring on high levels of infertility and miscarriages.
Ultimately, Fallout Shelter is a good model of what compulsory heterosexuality and reproduction would look like during a time of high need of an increased labor force (in a dystopian world) but it ultimately erases those who don't operate smoothly as cogs in this labor machine. Gone are the queer men and women, gone are those with low or no fertility, gone are those who don't fit prescribed gender roles (because the game doesn't allow cross dressing or for women to take on certain roles/uniforms–like professor, ha!) and that just leaves more questions about what has become of these people. Have they been pushed into the Wasteland to fend for themselves (as more waste)? Is this the group that have become the Raiders (now that makes me want to want to not fight them off so strongly)? In many ways I hope that this gets explored more in Fallout 4, but I guess we'll have to wait a couple of months to see.