Putting On My Helping Cap(py): Play With Your Kids Super Mario Odyssey Edition
This week has brought us tons of new game releases. We can solve grisly murder mysteries co-operatively in Hidden Agenda, punch Nazis in Wolfenstein II, explore Egypt as a man of color in Assassin's Creed: Origins, and finally be a dinosaur (and just about anything else) in Super Mario Odyssey. There are just so many great games to play that it's difficult to know where to start, unless you want to play with your kids.
The first three games on this list are just not age appropriate for my 9 year old and she was disappointed that I was getting so many new games this week and she was getting none. She wasn't even especially interested in "just another Mario game" (though I suspect that she was a little salty that I was getting so many games) until I explained the Cappy mechanic to her. For the uninitiated, Cappy is a magical hat creature who can possess other characters and allows you to play as them for a limited amount of time so that you can advance through the game by accessing previously inaccessible areas, break down walls, etc.  It really calls upon you to think not only of your own possibilities, but of those around you (wouldn't it be great if we did more of that in our everyday lives?).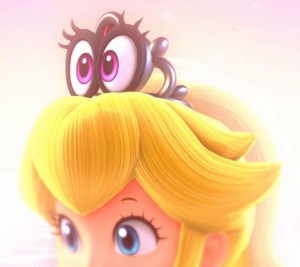 Super Mario Odyssey (or the couple of hours that I have played so far) revolves around the fact that Mario and Cappy are trying to save Princess Peach and Cappy's sister Tiara from a forced marriage to Bowser and to clear his henchman from Cappy's homeland. And while the game is amazing as a single player experience, it is equally fun as two player experience. As a co-op game one player can play as Mario while the other plays as Cappy and do the same things mentioned above and more (ie clear up hazard waste pooled on the ground so that Mario can enter an area). The roles feel balanced and it helps to think about how one person might help another even if they are not as big or are as strong…that being said, I was still given the role of Cappy.
This game is more than your usual platformer (though there may be some of that mixed in hint, hint). It is more clearly related to some of the later 3D world games. That is a fortunate thing for me and for my co-op partner because of the fact that I have always been horrible at traditional platformers (even though I love them) and the 3D games have always come much easier. If you (or your younger partner) still find the game too difficult when you are playing together you can go into Assist Mode which gives you additional lives, provides you with an objective pointer, and stops you from losing coins and reduces the number of damage you take if you, for example, fall off of a bridge. Assist mode is something that you can turn off and on as you need it throughout the game so you are not stuck with (or without) it simply based on the choice that you make at the beginning of the game.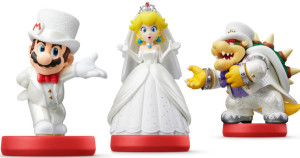 As a family of toys to life collectors, I would be remiss to not tell you about the new amiibos that came out with this game. The new figures (along with most other Mario universe amiibo) give Mario new clothes and caps to play in the game. The new wedding party amiibo specifically give him the ability to change into Bowser's groom tuxedo, or Peach's wedding gown. Over the course of the next couple of days I will definitely be searching high and low for the new amiibo and trying out the ones that we already have.
If you have a Switch, or plan on getting one any time soon, Super Mario Odyssey is definitely a game that you will want to play alone or split those Joy-Cons and play with your kid! Have a great weekend and play lots of games!