Visibility Matters: Xbox One's New Avatars
In 2011, I made the best Xbox Live avatar ever, according to me. That's because Bastion had come out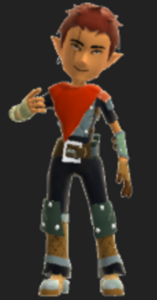 and they made Kid's outfit available for all avatars. I shelled out…I guess it was four dollars….got myself the outfit, gave myself some elf ears and spiky red hair and bam! Mostly idealistic representation of me in my gender neutral glory. Haven't changed anything since.
Haven't had to think about it, either. I got what I wanted, I am how I want to appear in my avatar. Well, the elf ears are a bit of a stretch, but overall. I'm me and that works out.
And, looking back, I wonder why I didn't think about all the folks that maybe didn't have representation. After all, isn't that what I'm fighting for?
—
On Tuesday, the folks over at Xbox announced that they are making it possible avatars to reflect people with certain disabilities. Specifically, the announcement of wheelchairs as an addition to Xbox One avatars. 
The folks over at GamesRadar and The Verge reported the announcement coming via twitter, where users were discussing making a petition to levy for wheelchairs for Xbox avatars. Users were assured that "no petition needed, we hear you," from Xbox representative Phil Spencer. His tweet was followed shortly by images from another member, Mike Ybarra, depicting new Xbox One avatars in wheelchairs. No official date has been assigned as to when these will be available.
Of course, when I saw the news, I shared it immediately to my own wall, wanting to spread the news and excited by the new layer of representation offered by these avatars.
I was excited until a friend, well meaning, asked if the Xbox Live community would be one that people would want to share their disability status with. Then I wasn't as excited anymore. I still wanted to be, but the reminders of cruelty faced by people in the Xbox Live realm hung over my head. And I had nothing pertinent to say otherwise. But it did remind me that I'd been hiding behind my "perfect" avatar for five years, never really thinking about if other people got to see themselves or not.
Of course, NYMG's Sam had a perfect response, and I'm glad she said it. "Representation is important! I applaud this. People who are physically or racially (and in other visible ways) [Othered] rarely have the chance to see themselves portrayed so this is a good move for MS. Surprisingly late, but still a great step."
And that, I think, is the point. We have another late, but important, move forward for representation. A not so small group of gamers will be able to change their avatar to reflect themselves in the real world, if they want to. People who may not have felt that they belonged in the gaming community because avatars did not reflect them will now be able to see themselves on screen.
I think my friend's worry was a founded one. But, if people in the Xbox Live community have a problem with this, then send them my way. I'll fight each and every one of them for the chance to make someone who wasn't originally represented be able to see themselves on screen.