In the Sewers and Streets with Dex (Xbox One)
Dex, a Kickstarter-funded 2D sidescroller cyberpunk RPG (that's a mouthful) originally available in early access in 2014 recently hacked its way onto consoles, with PS4 and Xbox One releases this summer. As a fan of cyberpunk worlds, choice-based games, and running in profile down long hallways, I figured I'd give it a shot, though player response since the game's early origins has been a widely varied mix.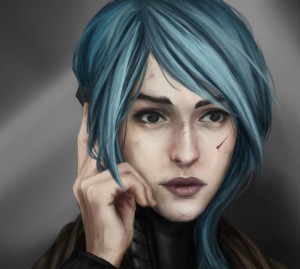 A labor of love, Dex's journey to consoles (and a variety of other systems; it's playable on everything) began back in 2012, and the effort that went into the game is clear. The character art in cutscenes is rich and expressive, and the voice acting from the main character and some of the others is much stronger than in many games at a comparable price point, a quality that helps add depth and intrigue when the game's other technical and narrative specs flag a little.
In terms of getting going, Dex wastes no time; after a brief introductory cutscene, the player is thrown immediately into the action as the titular character. Dex wakes to find she is being pursued by the shadowy Complex, the power behind the power in this world, and must learn both why she's been targeted, and who she's going to become in response. The story, before it opens up through dialogue and action options, is pretty standard; a little hero's journey, a little Matrix, a little William Gibson: it's a mix of familiar moments, names, and tropes for anyone who's ever been interested in cyberpunk media. There's even a character named Decker. These familiar elements may serve an interesting purpose, based on how the player proceeds, but in the interest of avoiding spoilers, I'll avoid much discussion there, except to say that I found myself wondering if there was more to the familiarity than simple cyberpunk touchstones.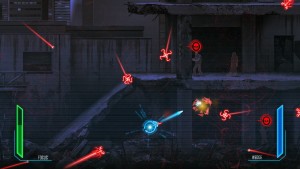 Despite its retro roots, Dex offers up a surprising amount of player choice. At first, this comes in terms of dialogue options (raising Charisma opens up even more here), but it isn't long before this choice extends to paths through the game. At key junctures, Dex offers players not only the chance to shape their character, but the game itself, and the result later is a fully different set of ending options that may make the sometimes shaky journey there worth it.
As the game develops, it can take a little time to get a handle on the combat. While the mechanics aren't particularly complicated (quite straightforward, in fact; the game's complications enter in other ways), the early game introduces multiple enemy and environment types quickly, so as soon as the player masters one technique, they're forced to switch it up (because maybe you can't jump down and kick anyone's face in the next, low-ceilinged room). This is great for later play, because it forced the player to learn a lot at once, but that learning is faster and more forced than in many games, and because the combat is at times a little hard to read — distance between player character and enemies is sometimes hard to gauge, as is necessary distance for attacks — the early game is not difficult, per se, but a little frustrating at times.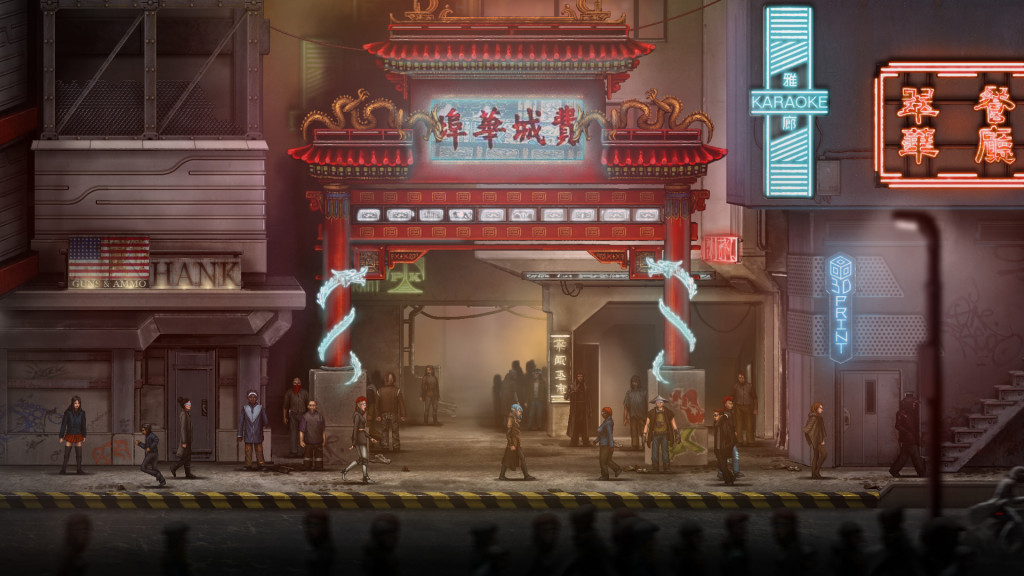 Despite these hiccups, Dex feels like a sprawling, epic game at times (though it isn't terribly long) — and you'll get plenty of time to see just how big, because you'll be backtracking and revisiting locations — though sometimes equally claustrophobic, as so many areas are tight hallways, small walkways, and narrow passages. The game is all hand-drawn, and beautifully detailed, but also confusing; it may take a death or seventeen to figure out what's an actual ledge, pipe, or walkway and what just looks like one. Sometimes, too, that Castlevania influence comes in a little too hard, with stairs down it can take just the right finessing of a button to descend, a particular frustration I thought I'd left behind years (and years) ago. But the choices here, in character development, dialogue, and approach balance the flaws, offering a customizable experience. In the end, this is one that may come down to personal choice; Dex may not be for everyone, but if you like cyberpunk worlds and sidescrollers, it may be worth checking out.