Power Hour Review: 8Days-Peace is Our Business (PS4)
8days-Peace is our Business (not to be confused with the title 8 Days, the canceled PS3 game). is a dual-stick 8 bit shooter by Santa Clara Games. It released in 2015 for the PC and was ported to the PS4 and XBox One February 7 of this year. The copy I reviewed was for the PS4.
In this game, you play as either 24 year old, Mexican, Lola "Wasp" Cruz or 40 year old Australian Mike "Ghost" Doe (I started as Wasp. She had pink hair). These two are mercenaries apart of a private military company (PMC) called G.O.D. inc (Which, upon reading up about the game on Santa Clara's website, stands for "Gold, Oil, and Diamonds, inc.") The Description reads as follows:  
In 8DAYS the mercenary company G.O.D. Inc. and the 8DAYS Magazine are two modern instruments used to control the masses. G.O.D. is primarily a peacekeeping force and 8DAYS ensures the bias of public opinion. In 8DAYS players take on the role of Lola "Wasp" and Mike "Ghost", two of G.O.D.'s expendable mercenaries.

Your first mission as a mercenary is to move to the East and break the world rice embargo which is prohibiting the Western upper classes from enjoying their daily sushi. You shall persuade the local military dictator to conclude this illegal embargo.

Along the missions as G.O.D. expendables mercenaries you will have to face those conflicts and put them to an end … will you?"
From the description alone 8Days seems like a tad of a tongue in cheek version of Metal Gear Something and a commentary on the military industrial money making complex. Maybe.
It's important that we pause here and make it known that I am absolutely god awful at shooters. Like the worst. I'm really really terrible.
I died within about a minute of first starting, but that's to be expected. And I proceeded to die about every two minutes for an hour. Somehow I didn't get frustrated, but I did give up and call for help. Luckily, this game has local co-op.
Help consisted of  my roommate Nico and later, my friend Brandon. We got through about half of Chapter 2 before Brandon called it quits.
I will start off by saying this game is actually pretty fun. But I don't think it's intended to be a single player game. In fact, this screen cap from the official trailer kind of confirms it. (The "Breaking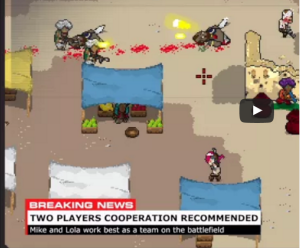 News" ticker reads: "Two player cooperation recommended: Mike and Lola work best as a team on the battlefield.") Playing this game solo is a nightmare. I also think it's more effective to use a machete or a knife (rather than a gun) to kill everyone and stealth the whole game.
I thought that was just my play style (read: I am the world's worst shot anyway), but both Nico and Brandon confirmed that while they were playing as well. Brandon actually got very good at using his machete as a thrown weapon, running, picking it up, and throwing it again. He had a pretty good reason why: while fast paced, there isn't actually enough action going on in this game to warrant it being a dual-stick shooter. The controls are finicky and take some getting used to, at least on the PS4.  
Unfortunately, because it's dual-stick, the aiming system is really clunky and you're really likely to miss. Missing draws attention. And then every enemy within a good radius is on your case. And you're still likely to miss despite the potential crowd of about five enemies coming at you. Not that crowding happens too often, at least early on.

With shooting so inaccurate at the best of times, we chose knifing most of the time. But this brought up another problem. If you tried to come from above the enemy to knife them, your knife would always miss. Even if you were right on top of the enemy. So if you're going to knife, come from below. Knives are insta-kills, after all.
But seriously, I stood in front of a piece of destructible scenery and couldn't hit it unless I was at a very specific point slightly below and to the right of it. It seemed incredibly picky and demanding of accuracy for a game that requires dual joysticks to do anything.
Also, the enemies have really small hitboxes while Lola and Mike have pretty large ones. They are bullet magnets. And, due to the nature of the game, you're going to spend a lot of the time at one health so that hitbox makes you a very easy target. It's like they borrowed a page from Dark Souls. "8days: Prepare to Die Edition."
So yeah, the mechanics are a bit buggy and frustrating.
Aggressive checkpoints made the number of times we died a bit more bearable. At least we only ever lost progress of one room, not a whole level. And the death/life/death cycle is very fast paced, so it's not like too much time was spent respawning and trying again. After playing a room 30+ times, it started to get a bit old when somehow, one guy would boomerang a bullet at you and you'd die in some weird, kind of glitchy way.
The game plays less like a shooter and more like a puzzle game. How best to get through each level is definitely varied and depends on the player. I was impressed with the levels we saw. Apparently every level has little secrets and easter eggs. Brandon and I found one in level 2, and let's just say, I wasn't too far off on saying that this game reminded me of Metal Gear Solid.
On top of pretty fun level design, the music is pretty solid. That's another plus.
Character wise, it seemed like it was taking an edge for diversity. In the trailer I watched, Mike seemed to be the main character, but interestingly enough, the character select screen defaults to Lola. Unfortunately, the "enemies" and locations seemed to fall into stereotypes ("Rice Wars" set in a conglomeration of Asiatic themes, the trailer showed stereotypical Middle Eastern people in what seemed to be a set piece out of Aladdin, etc).
While I can see this maybe being commentary on foreign powers showing up in places they don't belong, killing a lot of people, and "diplomacy succeeds!" PR campaigns hiding all the dirty work, it would have been nice to not cast everyone as stereotypes.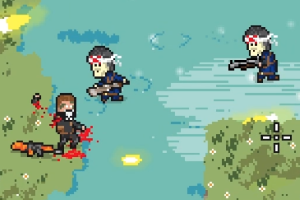 I also think aliens and robots might be enemies as well. While we only got to Chapter 2 we were already fighting robots by then.
That being said, I don't think Mike and Lola are the "good guys," at least, it does set them up to have to make some sort of choice about maybe ditching this industrial war machine and actually helping the people they previously killed, but I'll have to play more to find out. However, the game definitely does point fingers at ultraviolence as a solution to resistance and progressive change and say, "See how ridiculous this is!" It does a good job of not taking itself seriously while also having serious moments.
It also always has you making a choice, because there are plenty of noncombatants in each level. I did my best to not kill any civilians or folks who weren't fighting back. Brandon and Nico respected that of me and did their best not to as well (I mean, I'd yell at them if they did, but typically it was accidental).
At one point, Brandon walked up to two people picking rice and cut them in half. He then looked over at me and said "You know, I feel really bad about that." It was a very sobering moment for an otherwise pretty ridiculous game. Another time, early on, you have the option to fire a bazooka shot into a crowd of peaceful protesters. We didn't, but it certainly shows that this game can take on severely darker tones than the ones it already lays.
Overall, 8Days is a pretty solid game. But the mechanics make it incredibly frustrating, and that ultimately is why I don't think it's for me. This was an opinion seconded by Brandon and Nico, as frustration was ultimately why we all stopped playing and opted for other activities after about an hour of play. It was a fun hour of play each time, but always cut short when things didn't seem to work right.
I'd recommend this game tentatively. It's for people who have a co-op buddy, and you both have to be patient and acknowledge the fact that you're going to die a million times more than you'll want to admit and that you'll end up throwing your gun at people more than firing it. Probably on accident.
If you're on the fence and interested in seeing some gameplay and deciding for yourself, there's always the official trailer video  or you could watch Nico and I play it during NYMG's Gaming for Good event in support of ACLU on March 11.
Because it's always good to die for the cause.
(Photo credits to Santa Clara Games; Photo of Metal Gear Cast Dance Party from Jynx)