Power Hour Review: Shift Happens (Xbox One)
When we were offered the chance to do a review of Klonk Games' 3rd puzzle platform, Shift Happens (Xbox One/PS4/PC), I jumped at the chance because I thought that it would not only be a fun game to play with the kids, but also a fun game to play with friends since it has local co-op and multiplayer. Thinking back on it it really feels kind of dismissive….boy was I wrong.

Shift Happens is intentionally brutal and beautifully so. You play as two jiggly, gelatinous blobs names Bismo and Plom who have been joined together in a freak lab accident and can now use their special abilities to escape. The game has 30 single player levels and 40 multiplayer levels and while the game plays well single player there were definitely a few moments that made me wish that I had a second player around to help with some of the heavy lifting…literally.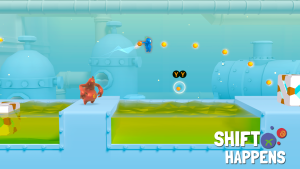 The game uses lifting, throwing, weight and height shifting to solve a series of puzzles and I have to admit that it took me a little over an hour to complete the first level (which has 13 sub levels) so there is a lot of gameplay here. And I should also admit that I am stuck at the very end of the level because I can not get the timing/shifting right in order to solve the last puzzle.
Shift Happens is, as odd as it sounds, a pretty little platformer the colors of Bismo and Plom pop against the soft calming blue of the lab. The graphics are clean and there is never any doubt on what will lead to your ultimate demise and like Stardew Valley, the other game that pulls me into a time vortex, the music is soothing and yet catchy enough to keep me engaged. For me as a gamer, music is key in puzzle platformers because they help me to set a pace and rhythm. Klonk has nailed it with this one.
Even though there are numerous things to love about this game, including the potential of the multiplayer aspect, that I didn't get to play pre-launch, I have to admit that at times the controls felt kind of finicky and if that finickiness gets you stuck then that's it, you're stuck. There is no moving forward from that point. I am personally hoping that (while being stuck at the end of the laboratory level) that I can pop someone in for couch co-op and make it past this point so that I can solve some more puzzles with Bismo and Plom!
Shift Happens is definitely a game worth picking up and is currently $14.99 on consoles and $13.99 on Steam