Gaming for Good: ACLU (Tonight!)
Our streams start in less than 7 hours and we all stoked to be playing games for such a great cause! As always we will be hosting one stream per shift on the NYMG Twitch channel, but you can check in to as many as you like using the handy schedule below (click to enlarge)!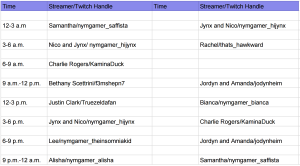 ---
On Saturday, March 11, 2017 we are hosting our sixth Gaming for Good event. This time we have chosen American Civil Liberties Union (ACLU) as our charity. Since 1920 the ACLU has been fighting hate and bigotry in the United States. Since January the ACLU has been working diligently to fight illegal and unconstitutional executive orders issued by the White House and in recent weeks they have pledged to hire 200 lawyers and staffers to continue the fight. By working together to raise funds for the ACLU we can help support their work of defending and preserving the individual rights and liberties guaranteed by the Constitution and laws of the United States.
During the course of the event we will be using the hashtag #NYMG_G4G to share stories and offer information about the history and work of the ACLU. The marathon will take place on Saturday, March 11, 2017, but we will keep a running tally of funds donated through March 31, 2017.
To donate to ACLU please follow this link to the campaign page at JustGive.org and we will be able to keep a running total of donations made for this campaign.