On Puzzles and Progeny: Orphan Black: The Game (iOS)
It is no small secret that television isn't really my thing. I watch a couple of choice (my choice and likely no one else's) shows and that's about it. I subscribe to HBO Now for the duration of the Game of Thrones season, I wait anxiously for new Marvel series on Netflix (but not Iron Fist), the Doctor will always have my heart, and then there's Orphan Black.
I discovered Orphan Black quite by accident. I was looking for something else on Amazon Prime (likely new Doctor Who seasons) when I found it. It was a mystery and a hero series all wrapped up into one and Sarah Manning was my kind of (anti-) hero, an unapologetic fuck up involved in some kind of institutional conspiracy (much has been revealed since that first episode). But before I get into the love hate relationship I have with Orphan Black (that's a post for another day), I want to talk about Orphan Black: The Game (OBTG).  OBTG launched about two weeks ago as a precursor to the final season of the series (*sob*) for iOS devices.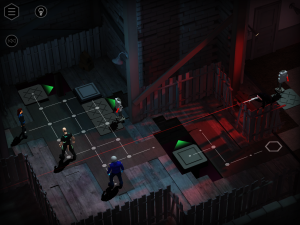 OBTG is an isometric, 3rd person, turn based puzzle game (that's a mouthful) that leads you through levels that mimic the key points of the narrative of the series itself. While there might seem to be a lot of moving pieces in the genre description the game is closest in style to the recent Lara Croft Go and includes things like bomb plates, moving tiles triggered by switches, and laser locked doors to make the puzzles more interesting. There are also various enemies set up throughout the worlds from the syringe bearing EMT goons who can only follow your path and don't get alerted until you are two tiles ahead of them to the bodyguards who only walk their set path and can't see what's in front of them. Sometimes solving the various levels takes multiple tries, but the fun of it is really visualizing who needs to move where and in what order you need to rid yourself of which obstacles in order to successfully navigate the level. The full release of the game (I've been playing since the beta) is comprised of 10 worlds with 8+ levels each (that's 80+ total levels for those of you following along at home) and allows you to unlock and play as all 10 clones siblings, including my 2 favorites Cosima and Sarah.
[Mild spoilers ahead] Cosima and Tony are two of the reasons that I love the show itself so much and a reason that I love being able to play as them in OBTG. There is something about being able to play through narrative moments of the clone-lines of the show's nerdy, lesbian sister and the trans-man brother that reminds me of why I am so drawn to the show itself. Is the representation perfect in the series? No, but nothing is ever perfect and even if it were perfect for me it would not be for someone else and ultimately that is the thing of the show, we have 10 flawed but engaging clones who are all radically different from queer/trans Cosima and Tony to Stepford wife turned drug dealer, Alison.
Even though this is an iOS game I am not playing it on my phone even though the screen is large enough to make the game easy to see and manipulate (I have a 6s Plus). I have been playing this game almost exclusively on my iPad because it completely burns through a fully charged battery in the time that it took to play through about one world. This is something that Boat Rocker Digital Media is definitely going to have to fix so that I can take my puzzle obsession on the road.
*NB: I received a review code for this game in exchange for a fair review. Orphan Black: The Game is currently on sale on the App Store for $1.99.