It's Science!: On Pokemon, Homeschooling, and Playing With Your Kids
This week I have been playing Pokemon Moon again.I've had the game since launch, but I tend to play Pokemon games in bits. A few hours here, a few days here. Whenever the mood strikes me and I feel like catching some pocket monsters. This week I started playing again because Pea wanted us to play together. She got her copy of Pokemon Sun at Christmas and she'd barely scraped the surface. She was still on the first island and she was finally ready to see about making some progress.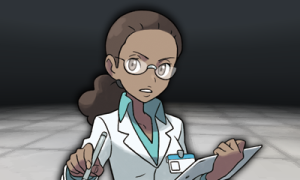 Pokemon Sun is Pea's second Pokemon game, she played Pokemon Y when she was five after taking over my game one time too many, but being 5 years old her battle strategy was literally more hit and miss and her understanding of the story came more from the anime than reading the game dialogue. So this time around her experience has been a little different. She can read the story and strategize about the moves and statistics (sometimes with a little help). I suspect that some of this also comes from the fact that she recently started to collect Pokemon cards in earnest, so far not to play the actual card game (but that's coming I'm sure) but as more of a Pokemonologist. She wants to know more about which moves the Pokemon have, what their types are, what they are strongest against, and the like. She then uses that information in the digital game.
We scored several of the previous Pokedex books at a garage sale last summer and she had the new one on her Amazon wish list before the game even came out. We have used the Pokedexes to not only talk about which Pokemon we should have on teams together for balance in which cases, but also in terms of thinking about biological classification systems. And there is nothing like using Pokemon books to get a hesitant reader to read. These are things that might not sound as foreign because 4 years have passed since the last Pokemon game she played (we skipped Omega Ruby and Alpha Sapphire). One of the things that has proven to be most interesting in this version of the game (from the mama wants to trick you into learning something standpoint) is the regional variants. This game thinks specifically about how Pokemon would evolve over time if they lived in different environments. How would their colors change, how would their size or height change? And since we spent a good deal of time in homeschool this semester talking about early humans and evolution this gave us an opportunity to talk about Pokemon in actual scientific terms.
Pea and I have spent hours laying across the bed or huddled on the couch thinking and talking about the environmental conditions that would have to be present to make certain "regional variants" of Pokemon come out the way that they did (that term itself is an interesting move to stay away from a broader concept of evolution). It also gives us an opportunity to share our knowledge with one another. I can share what I know about Pokemon and help her figure out where to go and what to do next and she can share her knowledge of which types of moves are most useful against which types of Pokemon (something that I can never keep straight in my head). She is ecstatic at being able to demonstrate her expertise in a subject and I am ecstatic that we get to spend some time together sharing something that will hopefully stick with both of us our entire lives.