Oh, the Places You've Been!
Recently I took a survey about places in games and it's been on my mind ever since. The questions were all about my favorite places in games, but the more I consider the topic, the more I think about important places in games rather than my favorite places – the places where I learned something, or that have just stuck particularly in my mind. I've traveled many beautiful places in games, and spent hours going in circles in others, particularly in multiplayer games, but a few have had more impact than others on me. Here are some I've been thinking about: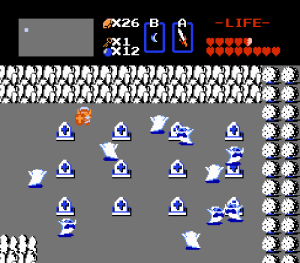 The Cemetery – The Legend of Zelda
I've talked frequently on the podcast about how the original Legend of Zelda is my favorite game of all time, and this is one of the reasons. I was very young when I played the first Zelda game and since I've always had a penchant for exploring, I got very good very early at running and avoiding enemies so I could look around and get a sense of the map, including areas where I didn't quite belong yet. That's how I stumbled onto the cemetery. I remember dying because I stopped, surprised, because cemeteries are real – and even as a child, I understood that they represented something beyond just the short years of my life, a something before and a something after. I understood that the game wasn't real, but in a sense, it came to life for me at that moment. The Legend of Zelda was a formative experience for me in many ways, but it may also have been the first time I caught a glimpse of the sweeping potential of video games.
Crawlers' Nest – Final Fantasy XI
The Crawler's Nest isn't on here because I loved it, but rather because I hated it. In my linkshell (guild) in FFXI, I played a number of roles, but more often than not, I was the puller in parties, the person who went and fetched enemies, catching aggro and bringing them back for combat. I played ranger and thief primarily, so it made sense, and I was good at it, except for one little thing: my sense of direction in the game was atrocious. Out in the real world, I'm great at orienting my position, but in virtual worlds, I lose all sense of space and relation somehow, and the Crawler's Nest had all sorts of twists and turns and possibilities for picking up extra enemies if you weren't careful. My friends and I had some (terrible) adventures in death there, and I killed myself so many times to avoid killing my whole party that once they recorded a video mocking my corpse before they resurrected me. Needless to say, I much preferred more open spaces where I could see for long distances. We had some good times there regardless, but it was definitely also a bastion of misery for me.
The Barrens – World of Warcraft
I never played WoW quite as seriously as I did FFXI, and though I was in a strong guild for a while, I often preferred just running around on my own, leveling different classes so I could find what I liked. Even though I didn't play Horde, I found that I loved the Barrens for newer characters, and for leveling early professions. There are more beautiful zones in WoW, but Blizzard's take on the savannah charmed me and I may have spent more time there than almost anywhere else, alone or with my partner when we played together.
A patch of grass – SOCOM II
SOCOM II is not one of my favorite games of all time or anything, but it did teach me something valuable about my play style, for it was there I learned how much I loved sneaking, crawling, and sniping. Essentially, I learned patience.  I'm pretty sure I experienced 75% of that game from the dubious position of lying in the dirt on my belly.
Bathroom in the Facility – GoldenEye
In contrast, I did love GoldenEye, and the Facility was one of our favorite multiplayer levels. I'm not only a sniper, but also a jerk, and I spent so much time creeping around that bathroom, in the bathroom, in a stall, near the bathroom waiting for others… I hardly even remember the rest of the level, but that bathroom is as clear to me as it would be if it was on the screen right now. I'm surprised no friendships ended over that bathroom.
Savini House – State of Decay
I couldn't make a list like this without including State of Decay, or my favorite house. Well, that's not quite true – my real favorite is the Warehouse, but just down the street is the Savini house, with its iron gate and treehouse outside. It's a smaller house, with less potential, but well positioned. These are excuses, though. Truth is, I just like it. I like that the house is compact and it's right outside the intersection where I first really noticed the leap in improvement from the original State of Decay to the year-one edition. I've killed so many zombies in that intersection – certainly hundreds, possibly thousands – and that it's also a nice place to stop and smell the roses (or the burning fires) is part of what makes the game feel so rounded to me. Savini house forever.
Clockwork Mansion – Dishonored 2
This feels like a cop-out because it's so obvious, but Dishonored 2 has a series of really tremendous levels in the middle of the game that more than make up for any of the sequel's flaws in my eyes. Aramis Stilton's home may be more of a challenge, but personally, I loved the Clockwork Mansion and played through it multiple times just to explore all the different paths and options. Perhaps my favorite thing these days is the ability to make a game my own, to really forge my own experience, and the shifting mansion, with its alternate paths and hidey holes is a breathtaking example of how to give the player options that make sense.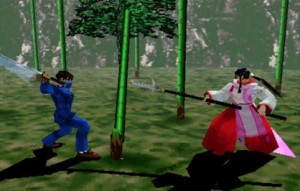 The Bamboo Grove – Bushido Blade
Bushido Blade remains my most fondly remembered fighting game experience, not just because of its depth and precision, but because it was also just fun. Bushido Blade was challenging, but only ever frustrating in a good way; the game required you to get better naturally, to think like a fighter. And in the bamboo grove? Things moved around you, increasing that natural feel. For the late 90s, it was a beautiful game, but this is the area I spent the most time in, fighting and rolling through the dirt once my legs were crippled. Good times.
But it seems most of this has been about me lying on the ground in one capacity or another. Purposely or not, it seems like that's maybe what I do best in games.