Dungeons and Discord: Virtual Tabletop and Platform Remediation
This past Saturday night, after a long summer hiatus, I sat down at my desk with my dice and my computer and ran a session of my digital Dungeons and Dragons campaign, Shards of Aeridas. The game lasted five hours, all of which I spent frantically typing into chat windows and consulting google docs, and by the end of the night I was exhausted, but satisfied, convinced that overall this, the conclusion of my game's prologue, had gone well.
I've written about the D&D games I've run before, and my thoughts on the benefits of running a game in a digital venue. After Saturday night's session I find myself reflecting on the means of play my friends and I have discovered quite by accident, one that lends itself surprisingly well to a multi-person digital tabletop game. The platform that we're using, Discord, was originally designed for voice and text chat during video game multiplayer, but I feel that the ways in which Discord functions as a multi-channel chat client lend themselves infinitely well to writing with a group to create a story, particularly in the context of D&D. This co-optation and even remediation of an established chat client has me thinking about the reasons I'm looking forward to continuing to use Discord to run my D&D sessions, as well as some of the complicating factors of running a digital game that working with a platform like Discord could make much easier.
One of Discord's defining features is the channel system, where users of a server have the opportunity to work within as many or as few separate 'rooms' as they wish to converse with each other. For the purposes of a D&D server, this allows me as the Dungeon Master to separate out things that, were they all in one singular chat, would be impossible to navigate effectively. A D&D game, particularly a digital one, has a lot of moving parts, and being able to separate and experience those parts allows for a much smoother game experience.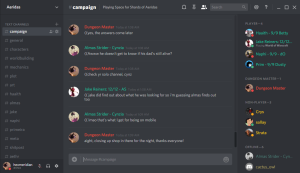 For instance, my D&D server is currently separated out into more than a dozen channels, each serving a specific purpose. As well as a general chat space for players to coordinate times and chat, there's a separate channel for the actual game itself, #campaign, and my players understand that what is said in that particular channel is considered canon, to borrow a term from fiction at a whole. I have a selection of other channels as well, including one where I post maps and lore (#worldbuilding), one full of links to generalized D&D information and house rules (#mechanics), and, most importantly, individual channels for each of my players and their characters.
Creating a character for a D&D game requires a lot of planning and coordination, especially in a virtual space, and giving my players a space to converse with me on things about their characters that they do not necessarily want to reveal to the rest of the group right away helps me keep things organized. If I'm not sure what one of my players has shared with the group, I can search the #campaign channel to check, and if it's not in there, I can check their individual channel for details. In this manner, one of my players managed to keep the fact that they were a tiefling from the rest of the group for large chunks of the first two sessions of our game, and the reveal of her species was orchestrated through a series of conversations in that solo channel during gameplay.
Having multiple channels to operate in creates a virtual table environment that gives players more opportunities to behave in certain ways, ways difficult to create in a physical environment. In the past, I've had DMs need to take players aside to reveal secrets or orchestrate events those players wanted to keep from their party. While teamwork and openness are hallmarks of a cooperative game like D&D, being able to coordinate the reveals of secrets has the potential to lead to a much richer narrative. Instead of calling my player out for lying by asking them to make a deception roll in #campaign, I can have them make it in their solo channel. It adds layers to the game that would not be able to exist in a face to face environment.
This is certainly a double-edged sword, and I honestly have yet to fully explore its potential, but I see the potential for pitfalls as much as I do the potential for creative storytelling. Encouraging players to keep secrets can lead to dissent amongst the group, something difficult enough to balance in a real life game, never mind one with five players in three different countries. As with most things in a game, maintaining a balance is essential.
There are disadvantages to using Discord, of course, and I think one of the greatest ones is the way my players have to learn to use language during the campaign itself. When playing around a table, it's easy to tell who is being addressed through eye contact, body language, and the like. However, when my players have an in-character exchange and one of them types "What is WITH your tact?" to the whole group without noting who they are addressing, the lack of clarity leads to confusion. This is just a matter of establishing another circumstance-specific gameplay situation, where I encourage players to directly address each other through description of their actions. It changes the language they use, but it is just a product of the situation, and my players willingness to adapt means that we've been able to successfully play D&D over the internet, despite being in three different timezones.    
D&D is, in itself, a kind of co-optation, a way of taking a fantasy story and repurposing it into a game, a collaborative experience, and an adventure. In this way I think that it's well-suited to a platform that has been co-opted by its user base into more than its intended purpose. Discord, which began as a voice chat service for gamers, has grown into a platform with capabilities for multi-channel communication, which makes it ideal for a different kind of digital gaming, a kind of gaming that takes something analog designed for a table and brings it into a realm that allows for as much creativity and storytelling as a traditional D&D session. Playing D&D on Discord, as a written activity, gives me the chance as a DM to craft a creative multimedia story, and gives me a great deal to reflect on as a scholar of writing, games, and digital media. I honestly cannot wait to see what the future holds for my game, and other digital D&D games out there.