Even Cute Monsters Have to Go: A Review of The Counting Kingdom (iOS)
It's no secret that I have a real interest in games for educational purposes. And this interest extends to games that might be both fun and educational to my own 6 year old. So when I got the chance to review The Counting Kingdom by Little Worlds Interactive for iOS I jumped at it. The game has gotten rave reviews on Steam and I'm always looking for something that I can throw on the iPad or iPod to keep Pea entertained in the grocery store or in various waiting rooms.
Let me start by saying the graphics on the introductory screens in this game are beautiful and music is soothing. It looks like a well draw children's book. It draws you in and while the graphics are not so complex during the actual gameplay, the monsters that you defend your castle from are very cute. Almost too cute to blow up…almost. And if you haven't guessed it from the previous sentence, The Counting Kingdom is a castle defense game. The game has several parts. First you have the numbered monsters that you have to blow up before they reach your castle. You blow these monsters up by adding or subtracting the numbers to (or from) one another and choosing the proper spell page (printed with the numerical answer) from the spell book to solve the problem and destroy the monster.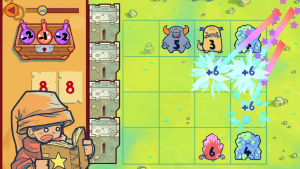 Sounds simple enough, right? And simple gets boring after a while, but The Counting Kingdom does a good job of scaffolding and starts to add some complexity to the game. Sometimes the answer page is not available. I that case you can return the page to the book for a new one as your turn action, but the monsters then advance one square toward your castle. As you get further into the game you can also begin to add the pages together to make larger numbers to answer the monster math problems. And if the spell pages weren't enough to keep you interested, you also start to get an assortment of "potions", little bottles that you can drag and drop onto the monster to make their numbers larger or smaller according to what the potion bottles themselves say (+1, -2, etc.). And there are other fun power up potions as the game advances. It's a great way of getting kids to think outside of the box and figure out different ways to solving math problems by either changing the problem or changing the available answers.
While I thought that this was a fun little game to play and it would definitely keep me interested for short bursts of time, after taking Calculus in college I can say that this game was probably not designed for me. What would our resident kid game tester think about it? I never really got a chance to introduce the game to her. She came and sat down next to me while I was doing my initial play through and watched me play for all of two or three minutes before she grabbed the iPad out of my hand and asked "Can I play?". I tried to explain the game and the mechanics to her, but she declared that my help wasn't needed because she could figure it out by herself. The design really is intuitive. And I didn't get my iPad back for a while. (One of the things that I would like to see would be cross device saves so that Pea could play n my iPad or her iPod and not be locked to one device).
The next question was "What's the game's replayability?". How long would she play it. I can't tell you how many LeapFrog games she's breezed through in one sitting and declared them done (goodbye 20 bucks down the toilet). A couple of weeks after seeing the game for the first time she still asks for my iPad in the car several times a week to play this game. She even comes in for cuddle time with the game loaded so that we can slay some monsters together. Sometimes we "race" through the same level to see who can get the highest score by clearing the monsters the fastest. And as the current levels become too simple you can ramp the difficulty up from level 1 to level 10 making the numbers on the monsters higher. At $4.99 on iOS (a lot less than I have paid for some Nick or Disney branded educational apps) this game is definitely worth the price of admission.
Pea's only request was that she would have liked to have been able to play as a girl because the wizard's apprentice in the story was male and there was no option (that we saw) to change that. She really is her mother's child.
Full disclosure: As this was a solicited review, we did receive our review copy for free.