What's in a Name?: Mass Effect: Andromeda and Inclusion
One of the things I enjoy most about writing for Not Your Mama's Gamer is the sense of anticipation I get when a new game I feel particularly passionate about is released. There are always games to write about, of course, but something about knowing that a game I've been anticipating for years is finally available gives me a new sense of excitement, of purpose, a motivation to sit down and play and really pick a game apart. As a new chapter in an already successful (albeit controversial) franchise, Mass Effect: Andromeda was bound to have a lot for me to talk about, especially as in the five years between the release of this game and Mass Effect 3, Bioware has made strides in the fields of representation and inclusivity. The romance options presented in Dragon Age: Inquisition as well as the inclusion of transgender character Krem gave me, and many other queer gamers, hope for the future of the Mass Effect franchise, even knowing that the two games are run and created by separate teams.
A lot of this hope was tainted in the weeks leading up to Andromeda's release via leaked news and screenshots about the game's characters and interactions. The one I took issue with particularly was the image shared on twitter regarding the inclusion of a trans character among Andromeda's NPCS. Hainly Abrams' dialogue with Ryder includes her sharing her reason for coming to Andromeda, which she indicates by explaining that she's a trans woman. Sounds fine on the surface, if I'm being honest, but unsurprisingly, I took issue with part of the interaction, because in explaining her reason for joining the Andromeda Initiative, Hainly deadnames herself.
A trans person's deadname, or the name they were originally given that they change to better reflect themselves, is not a common topic of conversation, even among trans people themselves. That former name is generally associated with a difficult past experience, a history of having to hide a person's true self, and the use of it serves most often as a painful reminder rather than anything that person would want to revisit. I say this as a trans person, and while I know that my personal experience is not a monolithic one, I have spent many years interacting with other trans individuals, and one thing we can all agree on is that we would be perfectly content if the entire world as a whole could wipe our deadnames from their collective consciousness.
My deadname causes me dysphoria. It causes me anxiety and stress and having it appear, even just in an email or on junk mail, is enough to ruin my day. I do not share my deadname with people, not even those closest to me, because it is not a part of who I am any more. And I may not be the only trans person out there, but as a trans person who has a deeply fraught relationship with my old name, I can say with strong authority that a trans person, especially a person looking to leave their old life behind and start anew, would not deadname themselves, especially not to someone who is essentially a stranger.
Hainly Abrams' use of her deadname in a single conversation with Ryder is upsetting to me because it's an example of the worst kind of pseudo-representation: the kind that was made with assumptions and not any kind of foresight or research. A conversation with even just one trans person would reveal to the writers of Andromeda that regardless of an individual person's preference, the general reaction to deadnaming, especially self-deadnaming, is that it doesn't happen. If Hainly is comfortable with sharing her deadname, that's of course different, because yes, we're not all the same, but here's the thing: Hainly appears in a very brief conversation on the planet Eos after Ryder succeeds in creating the settlement there, and this piece of dialogue is available in the first interaction Ryder has with her. We have no way of knowing if Hainly is all right with the idea of sharing her deadname because we know nothing about her except that she's a colonist, a part of the initiative, and is trans. I can't know if she's alight with her old name unless I'm given that context, and her presence in the story is so minimal that there's no time for context to be established.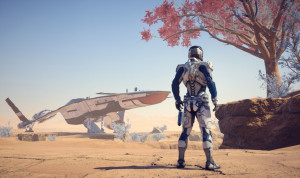 For me this all goes back to the idea that any representation is good representation, which is something I've been keen to challenge at every juncture. Asking a trans person for their deadname is about as inappropriate and rude as asking about their genitals: it is something deeply personal that THEY choose to share. And while Hainly did choose to share her deadname with Ryder, a stranger, the fact that this occurred in a AAA video game title gives the impression that free sharing and requesting of such information is acceptable. If a game is going to include a more diverse representation of people, then that representation should be handled with a mind towards those actual people, not a half-assed attempt at inclusion.
That's what this feels like to me, it feels like it's half-assed. Hainly's story is something of an afterthought, a piece of throwaway dialogue that makes her entire character an example of transness, and a poor one at that. I have serious issues with any representation that encourages this kind of interaction with trans people, because it should never be assumed that anyone is comfortable with talking about the most difficult and private parts of their past. It's sloppy writing, it's lazy character creation, and it does more harm than good for the Mass Effect franchise and for representation in games as a whole.
I'm maybe fifteen hours into the game at this point, and I have no intention of stopping playing, because I loved the original Mass Effect Trilogy. There are elements of Andromeda that satisfy my nostalgia for a series I've sunk over five hundred hours into on multiple platforms. But the handling of this, and other issues of diversity and inclusion in Andromeda, is deeply upsetting to me, and leaves a bad taste in my mouth that can't be washed away by exploration, character banter, or puzzle-solving. Other major game companies are making genuine efforts towards representation and inclusion, and even other games under the Bioware family have created believable and well-written diverse characters. As with so many other titles available in the recent months, the Mass Effect series needs to do better if it wants to have any hope of being as successful as its predecessors.