Playtime's Over: Gaming during Grad School
As I write this post I have two weeks left in my first year as a PhD student. I have a daunting pile of assignments waiting for me after I finish this post, all due at various points before my summer can begin, and the boss fight finals week feeling is kicking in to the point where considering taking a break to play anything, even to write a post, is enough to induce intense guilt.
I started writing for Not Your Mama's Gamer back in September, and my first concern I had then is one what still surfaces fairly regularly: what if I can't think of anything to write about? I play games, yes, and I do so for work as much as I do play, but sometimes when the semester kicks into that endgame hard mode I feel like there's no time for games whatsoever. The conundrum arises then, more so than ever: what do I write about when I don't have time to game?
The answer came to me while I was driving this afternoon, another one of my long roadtrips up the I-65 coming back from a visit to my boyfriend's place over the weekend. It was a fun weekend, albeit one that also included a lot of work, but reflecting on that, and my weekend before that, brought something to my attention that I hadn't previously considered, and it was that somehow I manage to find moments to play even when I'm buried under finals, papers, grading, and stress. A large chunk of my weekend was taken up with playing through some D&D scenarios with my boyfriend, planning chunks of the campaign I'm going to run over the summer, and talking about the D&D podcast the two of us are obsessed with, The Adventure Zone.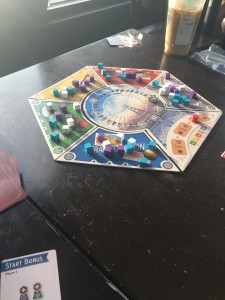 The weekend before I was up in Wisconsin, having a brief meet up with my parents, and on the way back I took a brief detour to meet some friends of mine from an internet community I've been speaking to for months. Since all three of us were fans of games, they brought along a board game, and after we ordered expensive coffee drinks we took over a corner of a Starbucks in Springfield, Illinois and played World's Fair 1893. What could have been an awkward gathering turned into an entertaining round of me learning a new game and them becoming familiar with it again. Last week was my friend's birthday and he had a group of us come over to play board games. Even though I was short on time and knew I'd have to get right back to work, he found a game that we could play in a short space of time, Sushi Go Party, so I'd still have the chance to hang out and have fun. Somehow despite this being the busiest period of my life thus far, I've found ways to inject games into my day-to-day life.
This post is semi-reflective of how important I think games are to me as a social interaction, as a bonding activity, as something to share with friends. I think it's also a reminder to myself that sometimes it's okay to take a break. I have two weeks to complete all my projects, and even with the staggered deadlines I have time to plan for everything, to spread everything out, and to pause as I race towards the finish line, remember it's a marathon and not a sprint.
Graduate school is also a marathon, a five year program that I'll come out of with credentials that I'll be proud to carry, but that means I have to actually make it through those five years. Burning out right at the end of year one is no way to go out, and this is just one of many boss battles before I get to that Ultimate Ending. I write this post for me, and for everyone else I know buried in crunch time right now. We're all stressed, working hard, not sleeping, drinking too much caffeine, and occasionally sobbing. We aren't machines, we're still human, and it's important to remember that even though we're gearing up for that last push before the semester's end, we have to take breaks, take breaths, and recollect, reconvene.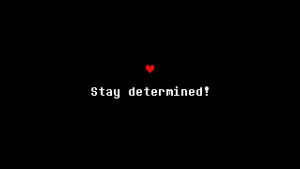 So, my fellow PhD students, my fellow graduate students, my undergraduate friends and others going through finals, please remember that we're playing the long game, and that the quest for that final reward is one we can reach if we pace ourselves. So, take a deep breath. Go for a walk. Play some Mario Kart or a couple rounds of dominoes with friends. Call someone to vent. Eat food that tastes good that doesn't make you regret your life choices later. Listen to music that keeps you energized when you need a push, and calm when you need to steal a few hours of sleep. Even if we don't have time to play the fun games, we can take some time to recover our hit points and recharge our spell slots. There will be time to play later, and getting to that after all the hard work will be worth it.
Keep it up, friends. I believe in you, and know you'll slay your end of semester dragons.