From Clue to Casinos: The Sexy Brutale (Power Hour Review)
The Sexy Brutale is a puzzle adventure game from Tequila Works (2017) and is available on Xbox One, PS4, and Steam. It only seemed fitting that the kids were fascinated with the idea of playing Clue during the same week that I was set to play The Sexy Brutale (Xbox One) for review. While I wasn't too keen on letting small kiddos think about who killed Mr. Body in what horrible way and in what room I did give in to their mystery urge and grabbed a copy of Clue Jr. which makes the mystery more kid friendly so that they have to figure out who ate the last slice of cake and rinsed it down with which beverage. It helps me sleep better at night knowing that my 8 year old is thinking about snitching the last piece of pastry and not bludgeoning Colonel Mustard to death in the study (yes, I know that's not how the game's narrative goes, but Colonel Mustard always did get on my nerves).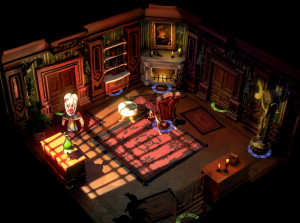 But I digress, The Sexy Brutale is a murder mystery all it's own. You play Lafcadio Boone, an elderly priest, who wakes up in a casino in the middle of a masquerade party where all of the guests are being murdered by the staff. You immediately encounter a sexy female bodied paranormal being who grants you the ability to move stealthily around the casino and turn back time so that you can stop the murders before they happen by bewitching your mask (nothing strange going on here with the conspiring of the religious and the occult at all). For every guest you save you are granted more time to search and save subsequent guest as well as their special powers that help in your investigations (i.e. improved hearing for eavesdropping on the murderers who talk to themselves about their plans).
The puzzle portion of the game is the investigation itself. This is not a game to rush through. It is a game to sit and savor. Your spend lots of time peeping through keyholes and listening at doors only to rewind time and do it again. In the time that I spent playing for the review (closer to 2 hours to get a real feel for this game) I had to rewind my 5 hour time period a couple of times and walk around the casino several times before I could figure out what needed to be done and where I was. Every time you rewind time you go back to the room you originally woke up in and then you head out all over again. Doors to all of the rooms are strikingly similar and lead off of hallways that all look the same. And all of the rooms have at least 2 doors. All of those things together add up to an infinite number of ways to get turned around while trying to find your way back to (for example) a gun cabinet that you found by mistake the first time.
Now, you would think that as a person who has the sense of direction of a drunken squirrel-tail monkey with vertigo (see what happens when you use the googles to find out which animals have the shortest memories?) that this game would hold no appeal to me whatsoever, but quite the opposite is true. I love the fact that The Sexy Brutale makes me slow down and consider my place in the game and the space around me. The how-to puzzles themselves are right up my alley. I am loving trying to figure out how to stop a murder before it happens when simply putting your body between the victim and the murderer will not work. It's that time of the year when I embrace every opportunity to slow down and just focus on small things for even short periods of time.
So at $19.99 is The Sexy Brutale worth the gamble? Absolutely. This game is a little bit Clue, a little bit Misadventures of P.B. Winterbottom, and a smidge of Ocarina of Time and they all come together to make a fun game with a catchy little soundtrack and amusing character backstories.
NB: We received a free code for a review copy of this game, but it has in no way affected our review of it.