Patchwork: A 2-Player Masterpiece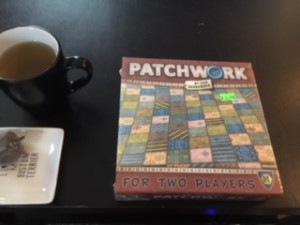 Patchwork is a beautiful board game designed by Uwe Rosenberg, with game art by Klemenz Franz. While this game doesn't fit into my mission to play, review, and critique all of the top 30 games on Board Game Geek as part of my Critical Perspectives on Board Games series (so far I've finished #21 Mansions of Madness, #30 Food Chain Magnate, and Sagrada, which isn't on the list yet but will be). Patchwork currently is #45 on the top 100 list, and it has earned that spot. I've been eyeing this game up for many months, drawn by the adorable art style but worried I couldn't find anyone to play with me because it's sewing themed. I haven't sewed before really, but hey, I also haven't been a farmer or galactic space traveler so I figured what the hell.
I purchased the game in Toronto for $23 Canadian, which equates to roughly
$18 US, at an amazing game store called 401 Games. This is less expensive than the game store by my house but about the same price as Amazon. For the quality of the game boards and pieces, I'm shocked at this low price tag. It certainly is worth the price. When I unboxed the game, I was really taken with the artwork and the simplicity of the game. There are basically four components: patches, buttons, your quilt/the game board, and the player pieces. That's it! At the same time I got Patchwork I also got Lords of Waterdeep, and man, that is a very different unboxing.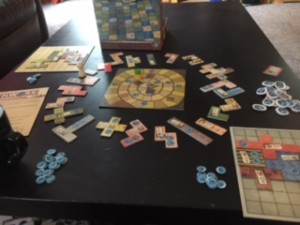 So the basic idea of the game is this: you're competing against the other player to build the most beautiful quilt. You want it to be as complete as possible by the end of the round, which means you want as few squares open at the end of the game. You take turns moving around and buying patch pieces with buttons to place on your board. The patch pieces are placed in a circular pattern around the game board, and you move the spool around as you go, only being able to choose from the three patches in front of the "spool." You win the game my having the most buttons and/or fewest empty spaces on your quilt. And that's pretty much it! It's such an easy game to learn, but difficult to really master the strategy.
One of the biggest pros of the game is that there is no text to read. Many games have complicated text on cards or rules you need to know in order to play effectively. This game is perfect for playing with kids because it's all visual based and the rules stay consistent throughout the game, so once they understand the basic concepts, you can play again and again. It's also not combat-based, so you don't need to worry about having to deal with violence or other issues that come with so many board games. You aren't destroying each other or fighting monsters, you're building a beautiful quilt. I can't imagine a more appropriate game for children and adults.
Another pro for the game is that it is built for two players. Many board games can be played with two players, of course, but the gameplay doesn't always hold up. With Patchwork, it can only be played with two players, so it truly feels like you're always getting the full experience. In the end, I highly recommend this game for couples or anyone who enjoys board games with their kids. It is a small investment for such a unique and beautiful experience. I hope any of you who try it find as much joy in this game as I have. Game on!